Greetings!  This week, instead of swimming the winding waters, you should saddle up your steed and gallop over to Davy Crockett's Almanack of Mystery, Adventure and the Wild West. September 23-28, 2013 has officially been proclaimed Tip of a Bone Week at the Almanack!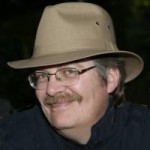 Evan Lewis, the blog's esteemed host,* will reveal his review of the book and an photo essay illustrating scenes from this Oregon coast mystery. He'll offer up a Dream Team cast to play the characters from Tip of a Bone (picture 30s starlets and vintage movie stars) and a Flash Fiction story, based on a scene from the Clam Strip.
What are you waiting for? Mosey on over!
*Evan Lewis is the very creative and talented author of the Skyler Hobbs mystery stories — and 2011 winner of the Mystery Writers of America's Robert L. Fish Award for best short story by a new writer.