Got the yen to pay in rupees? You can! As a first-time author, I'm intrigued by the Internet's ability to make books accessible to people around the world. Last week, my mystery novel Tip of a Bone could be pre-ordered only at the publisher's website. But this week—voilà!—you can find Tip of a Bone listed in India, Japan, and the UK. A world wide web, indeed. Check out the screen shots below:
 Amazon Japan. (I can't tell you what it says.)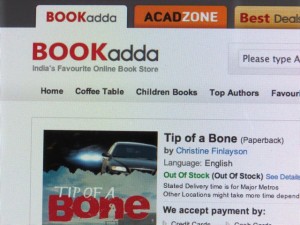 BOOKadda offers a five rupee discount for Liking their page.
This has me wondering how authors ever promoted their books before blogs, social media, and the Internet. (Wait—I can hear my kids saying, "What do you mean before the Internet? Is that like your stories about watching TV in black and white, back in the… Ice Age?")
While I personally love browsing and buying in real bookstores—the kind with inviting window displays, experts & book lovers to consult, and vast shelves of novels—I also love the ease of buying books for presents online and having them delivered days later to friends' doorsteps.
I love that people can read books on their cell phones, iPads, Kindles, Nooks and every other high-tech device imaginable. I love that writers can go the traditional route of seeking agents and finding publishers—or simply self-publish their books and start selling directly. I love how we can choose between paper books and e-books, book shops and web sites, and I love that reading is becoming accessible to more people, wherever they live.
So whether you consider yourself a Buy Local, Support My Neighborhood shopper or a Click to Add to Cart shopper (or a mixture of both), please:
KEEP READING.
KEEP BUYING.
TELL YOUR FRIENDS ABOUT GOOD BOOKS.
BUY MORE BOOKS.  :-)
SUPPORT YOUR LOCAL LIBRARY SYSTEM.
SUPPORT YOUR LOCAL BOOKSTORES.
And most of all:
ENCOURAGE EVERYONE TO READ, READ, READ.
LONG LIVE BOOKS!
Paperback copies of Tip of a Bone (to be released September 3, 2013) can be pre-ordered at these websites: Powell's Books (an independent bookstore based in Portland, Oregon); Adventure Publications (the independent publisher); Barnes and Noble.com; and Amazon.com.
Or browse around the web… you really can buy it using Japanese yen or Indian rupees. How cool is that?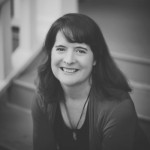 –Christine Finlayson